Reading Time:
3
minutes
Are AirPods Compatible With HP Laptops?
The thought that AirPods only work with Apple products is a common misconception. Fortunately, that's not the case. Since most modern laptops support Bluetooth connection, AirPods are compatible with most laptops, including HP laptops. Even if you have an older HP laptop without Bluetooth, there's a solution for you: a Bluetooth dongle.
Using AirPods on Your HP Laptop
Connecting AirPods to your HP laptop works in a similar way to any other Bluetooth headset or headphones. Ready to dive into the process? Let's break it down.
How to Connect AirPods to an HP Laptop
Following these simple steps will make connecting your AirPods to an HP laptop a breeze.
Read: Keyboard is locked; How to unlock a Locked Keyboard
Step 1: Prepare Your AirPods Device
First things first, ensure your AirPods are fully charged. It's as easy as placing them in the charging case for about 20 minutes. A fully-charged case can accommodate up to 3 or 4 AirPods recharges.
Step 2: Set Up Audio Input on Your HP Laptop
Switch your laptop's audio capabilities from Speaker to Headphone. How, you ask?
Open the Sound Control Panel by clicking the speaker icon on your Windows taskbar.
Click Headphones, then choose AirPods as the default audio device.
Easy, right?
Step 3: Turn on Bluetooth on Your HP Laptop
With just a few clicks, you can access the Action Center by pressing Windows + A simultaneously on your keyboard. Click on Bluetooth, and you're halfway there!
Step 4: Put Your AirPods in Pairing Mode
Press and hold the button on the back of the AirPods charging case until the light turns white and starts blinking. Voila! Your AirPods are now in pairing mode.
Step 5: Pair Your AirPods with Your HP Laptop
Back to your laptop screen, select the AirPods from the list of available Bluetooth devices, and pair them up. A tiny beep sound will signal success.
FAQ – Common AirPods and HP Laptop Compatibility Issues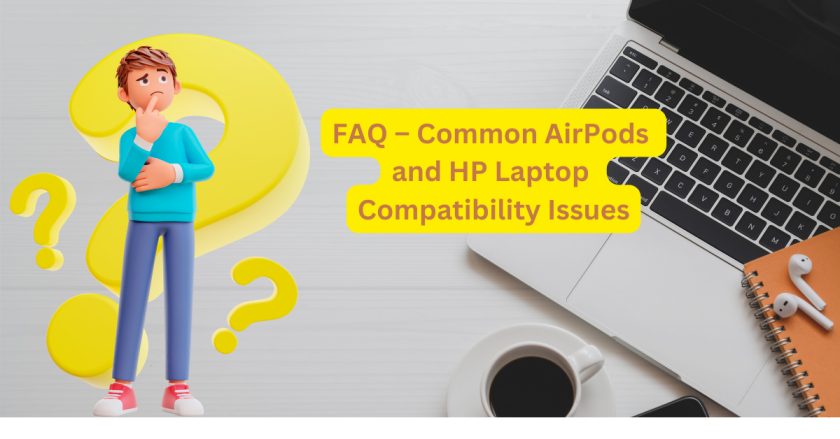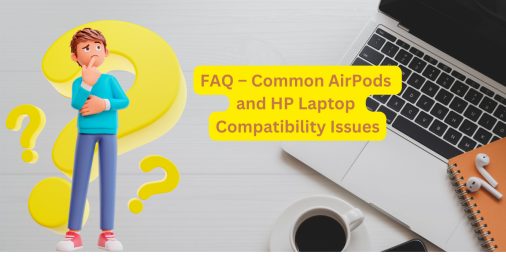 But wait, what if something goes wrong? Don't worry, we have you covered.
Why Is There No Sound When I Connect My AirPods to My HP Laptop?
Check your Bluetooth settings, update your drivers, or switch your audio output device. Got it? Great!
Why Won't My HP Laptop Detect My AirPods?
A common issue, but an easy fix. Just turn off and on Bluetooth on your laptop, refresh the connection, and you're good to go!
Why Do I Get Bad Audio Quality on My AirPods with My HP Laptop?
If you encounter any stuttering, ensure your AirPods are fully charged, stay within the Bluetooth range, or update your HP laptop drivers. Still, having trouble? Reach out to Apple support.
Read: White edges and borders around a laptop screen
Conclusion
Connecting your AirPods to your HP laptop isn't rocket science. Just follow our simple guide, and you'll be enjoying seamless sound in no time! Whether it's an older HP model or a brand-new device, our step-by-step instructions have you covered? If any issues pop up, our troubleshooting tips are here to help.
Check this: Craft Your Unique Identity: A Comprehensive Guide to Facebook Stylish Names
 FAQs
Can I use AirPods with any HP Laptop model?

Absolutely! As long as it has Bluetooth functionality, you're good to go.

How long should I charge my AirPods before connecting them?

About 20 minutes will fully charge your AirPods.

Can I connect my AirPods to multiple HP laptops?

Yes, but remember, your AirPods can only be connected to one device at a time.

What if my HP laptop still won't connect to my AirPods after following the steps?

It might be time to reach out to HP support. They're there to assist you!

Is it possible to improve the audio quality when using AirPods with my HP laptop?

Making sure you're within the Bluetooth range and updating your HP laptop drivers usually does the trick.